Nintendo recently held a conference to deliver all of the final details before the launch of its newest handheld the Nintendo 3DS. Unfortunately, iGG wasn't able to deliver these useful details at the time they were presented. However, with almost all of the details out there now, we will be giving a brief description as to what this seemingly spectacular handheld console is capable of and even more details on its launch.
What Does It Do?
The Nintendo 3DS is not a rebranded version of the Nintendo DS, such as the Nintendo DS Lite or the Nintendo DSi. The Nintendo 3DS is a true successor to the Nintendo DS and brings with it a ton of new features, all of which will be listed down below.
As suggested by its name, the Nintendo 3DS will be the first console to be released ready with built-in 3D playing technology. As a plus, you get to view this pop out effect without the need of any special glasses, making it the first device ever to use this screen technology.
The Nintendo 3DS also has dual cameras on its outer shell, capable of taking 3D photos. Unfortunately, it cannot record 3D videos, but it was hinted that the feature could possibly be added in the near future via software update. The Nintendo 3DS also packs a second single face-viewing camera.
One of the features I am most excited about is being able to watch full-length 3D movies on my Nintendo 3DS without the need of any glasses. Although I am not necessarily big on the whole idea of 3D, being able to watch movies like Avatar or Piranha 3D (highly unlikely due to its R rating) on the go in 3D for a not-so expensive price is a good selling point.
The Nintendo 3DS can also play original Nintendo DS games. However, these games will remain in 2D. 
A built-in depth slider allows you to control the amount of 3D you want to perfectly suit your eyes. It also allows you to turn the effect off if you would rather play the game in 2D.
A pack of Augmented Reality cards come packaged with the Nintendo 3DS and allow you to play certain games in Augmented Reality wherever the card is placed. Several games, such as Nintendogs+cats, appear to be supporting this feature as well. Their are even AR Games that come packaged with the system.
How is it different from the Nintendo DS?
Well, if 3D doesn't make it clear alone, the Nintendo 3DS is a completely innovate experience not only in Nintendo's branch of handhelds, but in handhelds everywhere. The recently reviewed iPod 4 proved that gaming on the go is just as important as gaming at home. The Nintendo 3DS will further expand that theory in a variety of ways.
Super Street Fighter IV: 3D Edition
First off, the Nintendo 3DS packs in two wonderful background services, StreetPass and SpotPass. SpotPass allows the Nintendo 3DS to search for WiFi signals and download content while remaining in sleep mode. StreetPass allows users to exchange data between users when passing by. A good example of this service is the exchange of Mii avatars in doing this process. Several games will support this feature, one being Super Street Fighter IV: 3D Edition. With StreetPass, users will immerse in a mutual battle in the game while it is in sleep mode, acquiring trophies from the other player.
The Nintendo 3DS also improves its community features seen in both the Nintendo DS and even the Wii. Both the Nintendo DS and Wii used a friend code system that proved annoying to most users. The Nintendo 3DS does utilize the friend code system, but to a much simpler extent. Instead of each software title having its own unique friend code for exchange, the system will incorporate its own one-time use friend code. After the exchange is done, your friend will automatically be added to your friends list for future use. Of course a username would have proven much simpler, but it definitely is a leap compared to what was given to us before. The friends list is worked in a similar way to that of which is seen on the home consoles, namely being able to see what your friend is doing and when he is online. Again, this is a big change from what we are used to.
Tangled was one of the 3D trailers shown at E3
As noted, the Nintendo 3DS does do video playback. However, any further word on how this feature will be implemented in the future is yet to be known. The virtual store packed into the 3DS will update with several trailers and gameplay videos of retail and download releases in 3D, so this is one way to expect 3D playback when it is released. Nintendo did note that they have made a deal with Warner Bros. Disney and Dreamworks to release 3D films on the system, but there has been no mention of any titles to be released. We will be sure to update you on this as soon as possible. If the feature is used by a lot of film companies, this can be one of the cheapest methods to view 3D movies in your house or on the go.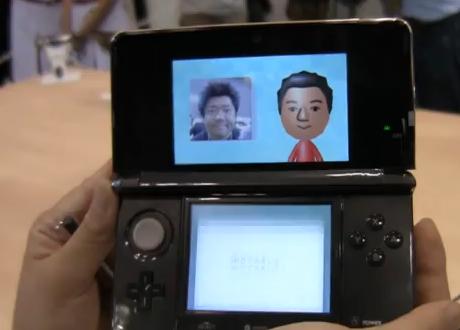 Take pictures to Create a Mii!
One of the beloved features of the Wii was the Mii Plaza. Users were able to create virtual avatars of themselves in whatever way they wanted. The best part about these Miis, as they were called, was that they could have been used in numerous games (Wii Sports, Wii Music, etc.). The success of the Mii influenced the creation of PlayStation Home and Xbox Live Avatars. Nintendo knew one of the best things they could have done was to bring these Mii's to the handheld market. In doing so, they have now added them to their newest handheld. The Mii Maker on the Nintendo 3DS works similarly to the creation of Miis on the Wii, mainly with more facial features and the such. However, they added a marvelous feature that is on par with Xbox 360′s Kinect. You can now take pictures of yourself and it will automatically create a Mii that looks almost identical to that face. Kinect uses the same technology in creating Avatars, so it is nice to see this head out to even the handheld zone. You can also import the Miis from a Wii console onto the 3DS, but it cannot be done vice versa. A StreetPass Mii Plaza is also incorporated into the system which will be used to house all of the Miis met while in StreetPass Mode.
That's a lot of new features. How much is all this gonna cost?
As the image suggests, the Nintendo 3DS has been priced at 250 US dollars. While this is Nintendo's priciest handheld yet, it is important to take everything that comes packaged into consideration. This no doubt incorporated more features than Sony's original PSP and is priced the same as the PSP at its launch. So surely, we are getting our money's worth in purchasing it. 
I suppose the price is worth it. Are there any cons?
Of course. Every system comes with a few cons on its side. However, it is a matter of how many pros there are to outweigh the cons, especially at launch. One of the major issues found with the Nintendo 3DS is that it is region locked. Most Nintendo DS games were released in Japan first, and many fans of certain series (Pokemon being one) like to ship out the Japanese copies of those games. Unfortunately, that can no longer be done with the Nintendo 3DS.
Also worth noting is the system's battery life. Before I go on with the disappointing specs on it, let me say it isn't very long at all. The Nintendo 3DS takes 3 hours and 30 minutes to fully recharge and when recharged lasts only 3-5 hours when playing 3DS games and 5-8 hours when playing regular DS games. This is a huge disappointment, and we can only hope it isn't as bad as it seems.


That isn't too bad.
It isn't. Unfortunately, I wasn't given any hands-on time with the device, so I can't list any impressions or how good the 3D effect actually is. However, from a screenshot standpoint the game's graphical display is outright amazing for a handheld device. I am looking forward to picking one up at launch day on March 27, and will be doing an unboxing video that midnight. Inevitably, a review on the device will be given shortly after, so be sure to check out for any more cons around its release. Also be sure to check iGG for a full list of launch titles as they are released from Nintendo. 

Journalism by iGo Gaming is licensed under a Creative Commons Attribution-NonCommercial-ShareAlike 3.0 Unported License.