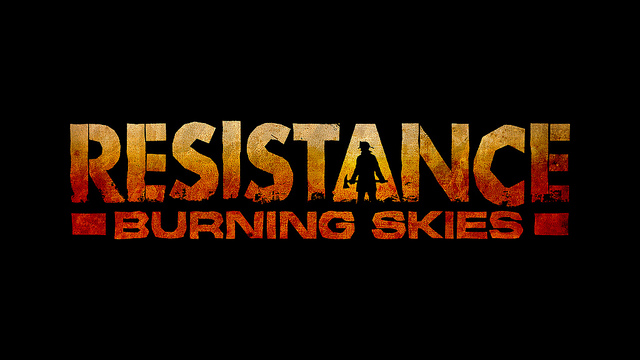 Since the earlier days of the PlayStation 3, I have been a fan of Resistance. Telling the story of an invasion composed of the Chimera, I grew attached to the numerous characters who've played an important role in this massive war. The gameplay was always on point and the weapons were incredibly clever. Resistance: Retribution was a decent handheld exploration of the series, but it didn't deliver the same kind of experience as the main entry titles. Resistance: Burning Skies has landed on the Vita and promises to be the first dual-stick FPS on a handheld. It definitely succeeds at that, but fails to deliver that Resistance experience. Read on to find out more.
Story Mode
Resistance has always been a game about story. From the compelling tales of Nathan Hale to the gripping plot starring Joseph Capelli in Resistance 3. Unfortunately, Burning Skies fails to deliver a story worth caring about. Burning Skies stars Tom Riley, a New York firefighter. Tom is thrown right in the middle of the action as the Chimera begin attacking North America. The Chimera abduct his wife and daughter and it is up to him and a few other characters you meet to save them and the city. The story is pretty generic, but that isn't the problem at all. The game is a mere six chapters long, which would roughly be around five hours of gameplay. To better translate how short the game actually is, I managed to get past the half way point before the night was even close to over at launch. Collectibles do exist, but they are far less interesting than that of Resistance 3 and are bland in design nature as well.
Length isn't the major drawback of Burning Skies' solo campaign though. What really brings this game to an all time low is the fact that the story is never transformed into what it could have been. Tom hardly speaks throughout the incredibly short campaign, and his interactions with other characters are meaningless. There are cutscenes, but they do nothing to improve the incredibly dried out story. For the most part, these cutscenes are told from a random character's perspective and they never do anything to improve Tom's lackluster character development. His character is brought up a mere two times in cutscenes which, in most cases, are placed in games to further develop the story. All in all, the story was a major let down with its completely dry storytelling and insanely short length.
Gameplay & Presentation
If there is one thing Burning Skies does right, its the gameplay. Burning Skies promised to be the first portable, twin-stick FPS and it did just that  successfully. The standard is there – the two triggers are to aim and shoot and the analogs to aim and move. The analogs are definitely at its most accurate here, especially when compared to something along the likes of Uncharted: Golden Abyss. However, the analogs do lack the 'click' seen on the DualShocks (R3 and L3). This of course means replacements for sprinting. Pressing the down d-pad button is used for sprinting, and despite initial thought that this wouldn't work, it managed to feel real comfortable in game. The game also utilizes the touch screen and rear touch pad for Resistance's iconic secndary fires. This works well for the most part, although there are times where it can get somewhat annoying. The touch screen is also utilized for interactions. This works as well, except for the numerous times where I would be caught slashing with my fire axe instead of opening a door. Weapons can be upgraded for better recoil, stronger power, etc. Its a pretty neat system, but it isn't something that adds a whole lot of depth to this pretty shallow experience. The AI is another complaint I have for Burning Skies. Enemies are incredibly dumb. For the most part, they will stay in the same area, aimlessly shooting. This, of course, leaves players with the ability to run up to them and hack and slash away with the fire axe. Upping the difficulty doesn't entirely change the experience, as the AI still remains pretty dumb.
Burning Skies looks pretty nice. While certainly not the best looking Vita game, Resistance isn't exactly ugly. Character animations are pretty blend, but the environment pieces look fairly nice. Enemies are a mixed bag, with the standard Chimera looking pretty nice. However, bosses and specialty enemies all look pretty disgusting in terms of design. Voice acting is also a bit iffy, but the soundtrack is on point with the series. One audio glitch I noticed was with the chain gun not setting off sounds of bullets being fired. Its an odd glitch, but not a game breaker. There are clearly worse issues with the title.
Multiplayer
The game does incorporate multiplayer, another critically praised feature of most Resistance titles. However, this time it has been incredibly watered down. The multiplayer only allows for up to eight players to be playing in a game at once. There are only a few maps and three generic game modes (TDM, DM and survival). Don't get me wrong, it is still fun to play in short burts. I don't see this becoming as popular with the community compared to the console versions.
Closing Comments
In short, Resistance: Burning Skies delivers on one of its promises – being the first twin stick FPS on a handheld. However, focusing too much on what makes a decent FPS it forgot to deliver on what makes a good Resistance game. The story is incredibly shallow with a serious lack of character development. The presentation is fairly decent with fair graphics and a nice soundtrack. Multiplayer is pretty lackluster and very watered down with a lack of modes and maps, making for a pretty bland experience. The game fails to deliver a quality Resistance title like the titles developed by the critically acclaimed developers at Insomniac.
The Good
Stellar control scheme makes for truly the first twin stick FPS experience

The game looks nice, for the most part

Soundtrack is damn good
The Bad
An incredibly shallow and dry story mode

Terrible character development

AI is incredibly dumb

Story mode is insanely short, clocking in at around 5-6 hours

Collectibles give no reason to return, unlike that of Resistance 3

Multiplayer is incredibly watered down
5/10
Skip it